Repairs
"Bring your disabled electronics to the ones who know best."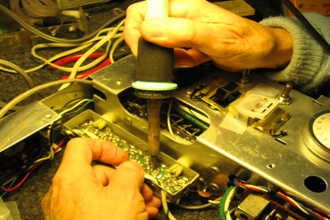 Many people know Monmouth Stereo of Shrewsbury solely for the fact that we are experts at repairing all sorts of gizmos and gadgets. Due to the fact that our talented staff members have years of experience with equipment from a very wide variety of different manufacturers, it's safe to say that we are quite possibly the most qualified people to repair your electronics. If you recently had a favorite piece of equipment fail, bring it to Monmouth Stereo, and we will do our best to fix it.
A typical repair job will involve us examining the equipment and running a quick diagnostic on it. Once we figure out what happened with the equipment, we'll tell you about the problem and also tell you what would be necessary in order to fix it. If you decide that it's worth fixing, then we will fix it for you.
Here's why people love choosing Monmouth Stereo for their repair needs:
We know what we're doing. For decades, people have been coming to Monmouth Stereo of Shrewsbury for all their electronic repair needs. Whether it's broken turntables or a static-y speaker, we probably have seen it before, and know how to fix it. Not many other companies can say that they have the experience and knowledge base that we do.
We also have the tools and equipment necessary to fix your stuff. What good experiences if you can't put it to good use? Monmouth Stereo is one of the most well-equipped companies in the area when it comes to repairs. We have what it takes to fix your goods.
We also believe in service with a smile. For repairs that are done in a timely, professional, and friendly manner, we are the only company you should go to! No other in Monmouth county will put as much stress in customer service as we do.
Our prices are very reasonable. We really do not believe that a person should have to pay a ridiculously high fee just so they can enjoy their favorite piece of audiovisual equipment for a couple of years more. Because we are dedicated to providing great services and goods at a low price, you can rest assured that we will always have a customer-friendly price for any repairs that we do.
After 50 years of doing repairs, we now are only doing repairs on:
Repair Services
Some Turntables
Some Speakers ( No Subwoofers)
Some CD Players
Please give us a call and we can recommend some other places that you can send your equipment out to.
If you have a cherished device in need of repairs, Monmouth Stereo of Shrewsbury can help you out. Call us today for a free consultation, or drop by our store!
For more information call the store at:
732-842-0595