Rentals
Audio Video Rental Equipment
Not everyone wants to buy Audio-Video AV equipment – especially if it's clear that they are only going to use it once or twice in their lifetimes. If you've ever had an event where you needed top of the line audio or video equipment, then you already know how important it is to have a store like Monmouth Stereo of Shrewsbury to help you pick out the right equipment and also allow you to rent it at a reasonable price. Whether it's just a rental for a small birthday party that you're DJing, or if you need a rental for a major gathering, we have you covered. Here's what you can always expect when renting from Monmouth Stereo:
You can expect the same high-quality service as you would receive if you were to buy it. Unlike some of our competitors, we appreciate all of our customers, and never discriminate based on whether you're looking to buy or rent. No matter what questions you may have, what your needs may be, or your budget, we will always be happy to provide you with the five-star quality service that you deserve!
We have rental equipment for just about every event you could possibly imagine. Our staff is able to put together excellent packages for weddings, birthday parties, family reunions, corporate events, and even college parties. If we don't have the right equipment for the job at hand, we are always more than happy to help you find it.
Our highly talented and knowledgeable staff members can also help you pick out the best equipment for the job, and give you great advice. Sometimes, putting together an event can be difficult to do when you have never done it before. When you're at a loss for what to do, our staff will be able to give you advice that will help your event run smoothly. After all, with our experience and our deep passion for AV, it only makes sense to help those in need.
You also get great prices. Great service and equipment should never be pricey! Our rental fees keep things as low as possible.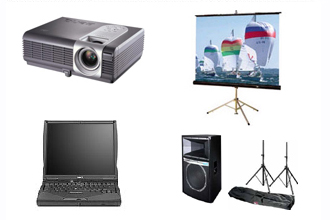 Wondering what kind of AV rental equipment we have? Here's a small taste of our selection…
Podiums
Projectors (LCD, Overhead and Slide)
Stereo Equipment
DJ Equipment – including turntables, CD changers, and speakers of every size
Laptops, mice, keyboards, and laser pointers
Microphones – corded and wireless
VCR's, TV's, flatscreens and monitors
Camcorders
PA Systems
And of course, if you need help when it comes to the installation and teardown of equipment, Monmouth Stereo of Shrewsbury will be more than happy to help.
So no matter what your occasion weddings, birthday parties, presentations, or anything else that could use the help of some audio/visual equipment can be rented here at Monmouth Stereo.
Please stop in or call to ask about our rental rates. Below are some of the products for rent.
For a list of our current rentals give us a call.
732-842-0595